San Giacomo di Roburent
San Giacomo is a resort, located in the heart of Maritime Alps, surrounded by chestnuts and beech-tree woods, that can offer many attractions both in summer and in winter. The village, developed around its old centre, can offer any kind of service: lots of varied shops, banking, chemist's, cinema, a meeting centre, for daily life, as well as equitation centres and tennis courts, ice-skating rinks, volleyball and French bowls for spare time.
Winter season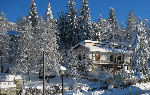 The skiing district around Sangiacomo di Roburent is perfectly integrated with the life of the village, provided with all the necessary facilities for a pleasant stay. Over 30 km of slopes, of which 5 km are equipped with artificial snow-making facilities, unwind along the two mountains that rise just behind the village, Bric Colmé (1300 m) and Monte Alpet (1600 m). The ski slopes are equipped with 1 two-seat chair lift and 8 ski-lifts and skiers have a variety of slopes to choose, ranging from the very challenging ones to those where beginners can enjoy themselves and learn to ski in complete safety. At about 20 km away there are the skiing resorts of Frabosa, Artesina, Prato Nevoso and Viola St.Gree, where it is possible practicing snowboard and cross-country skiing.
Summer season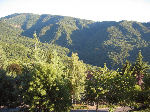 The 9 holes of Montaldo Golf Club, about to be finished, located 500 m. away from the building, are set in a wonderful area where uncontaminated nature and a stunning view of valleys and mountains make the perfect setting for a course. The course is very undulated and challenging with small well-protected greens. There are, moreover, trecking paths, three equitation centres with guided trecking facilties, football grounds, hunting in autunm and spring period, puppet festivals. Orienteering and Achery competitions fulfill the offer. The Liset spring, a fountain in the typical alpine style, is located in the heart of a small park of conifers, and is one of the lightest waters in Europe. Highly diuretic, it is recommended in treatment of kidney dysfunctions and metabolic diseases. A few kilomtres, there is the renowned Langhe famous for its wines exported all over the wolrd, among which worth mentioning are: dolcetto, nebbiolo, grignolino, barbaresco, barolo and barbera.
Where San Giacomo di Roburent is:
S.Giacomo di Roburent on Google Maps


S.Giacomo di Roburent on Via Michelin


© 2006 Ranch