Restaurant
Ranch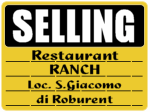 For sale a business activity consisting of restaurant, bar, games hall, ice rink and tennis courts 100 m away from San Giacomo di Roburent. The establishment is located in a picturesque, sunny position in the heart of maritime alps, with a mild climate.
The restaurant that has been established for over 30 years, is renowned in the surrounding area for its home-made cuisine with both grilled meat courses and hand-made starters.
The property is located in a building of stone and wood construction, typical of the mountain region.
Main activities.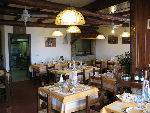 100 to 130-seat restaurant; 35-seat bar set in a mountain environment; three tennis courts, one of which is designed for singles, all with artificial lighting, changing rooms, and showers.
An ice rink 20 x 30 m. and a four-way sound system, equipped with 400 pairs of skates for hire and a heated dressing room.
A games hall with pinball, pool and many videogames; in the basement under the ice rink there is a car park for more than 30 cars.
The building consists of cellars, storehouse, storage facility, and adequate office space. There are also 4 bedrooms with en-suite bathrooms and three flats, which can be converted into 10 bedrooms, so that the property can be changed into an inn or bed-and-breakfast.
Planimetry of the building
Click here for the Planimetry of the building in PDF format(Acrobat Reader is needed)
Overview
Overview of the building in Quicktime format(3.4Mb high quality)
Overview of the building in Quicktime format (0.8Mb low quality)

Building details: